The Explorer Belt "is designed to help young people develop a real understanding of another country by travelling through that country, working as a small team to complete surprise projects, and meeting local people."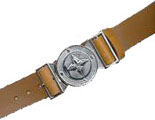 To complete the Explorer Belt, an Explorer Scout or member of the Scout Network must:
Plan and train for an international expedition as part of a small team.
Travel to another country and travel through that country for over ten days.
Complete a major project of their own choice.
Complete 10 out of 20 surprise projects.
Keep a notebook or diary during the expedition including: thoughts, distance travelled and an accounts sheet.
Take part in a debriefing after the expedition.
Make a presentation about the expedition.
Going on the trip does not guarantee that the belt will be awarded. After the final presentation the award team decide whether to award the belt or not. The successful groups are shown below, along with the year and venue.
| | | |
| --- | --- | --- |
| 1983 | Tony Corfield, Ian Heald | Cantabria, Spain |
| 1985 | Dave Harrison, Andy Peters | Brittany, France |
| 2001 | Tom Gregg, Matt Gibson | Ardennes, Belgium |
| 2003 | Edd Dooley, Adam Kay, Steve Tarrant, Rob Bailey, Dave Green, Mike Scurfield | Ardennes, Belgium |
| 2006 | Charles Growcott, Dave Mason, Neil Smith, Pete Smith, Simon Timmins, Ben Ware | Dusseldorf, Germany |
| 2010 | Megan Nelson, Neil Mycock, Tom Edwards, James Comiskey, Rob Massey | Copenhagen, Denmark |